Share your referral code to invite friends to Kidizen and earn rewards!

Where do I find my Referral code?
On the latest version of iOS, you can access your referral code and program details by tapping on Invite Friends, Earn Cash on your profile.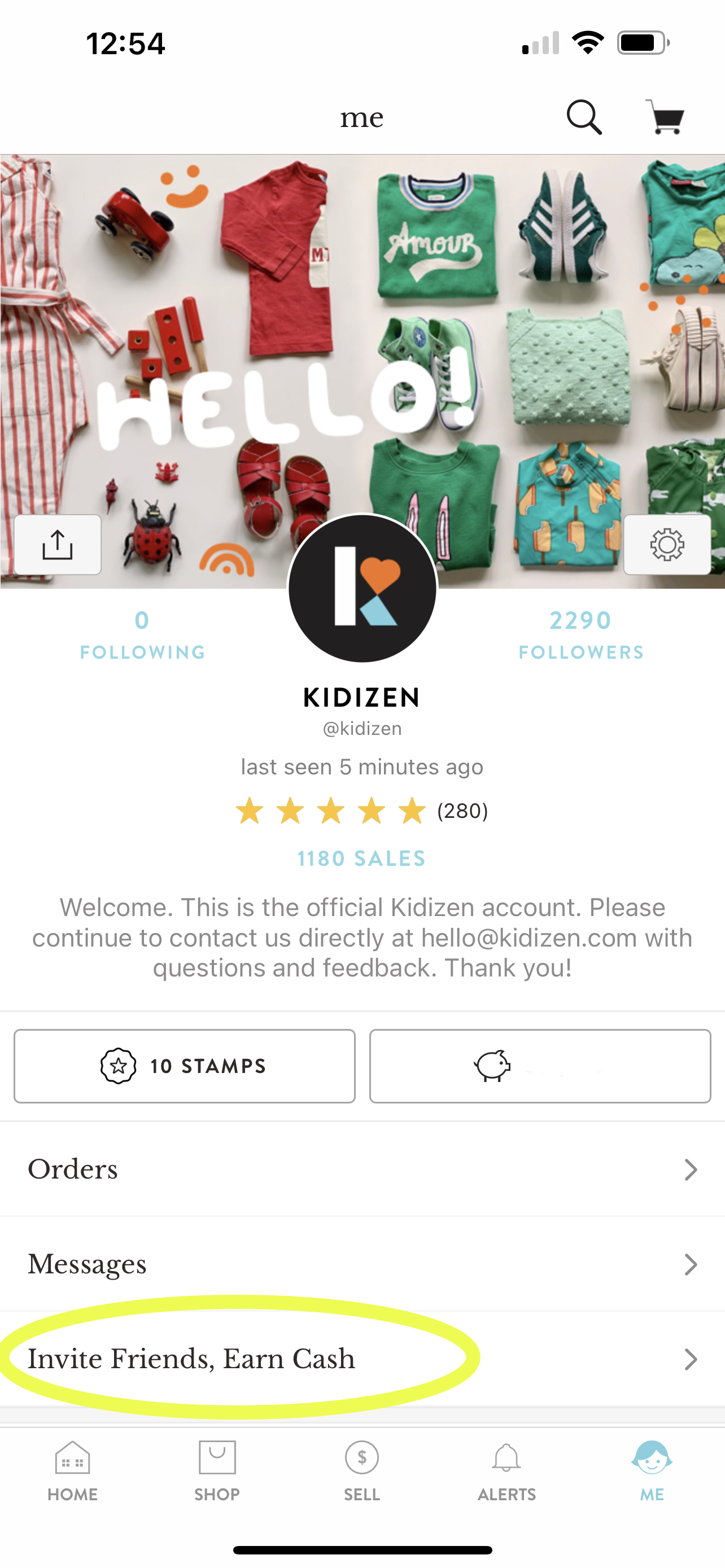 (Tap Me on the bottom navigation to find your profile)

On Android and earlier iOS versions, go to Me > Settings > Find and Refer Friends to find and share your referral code.


PROGRAM RULES
From the referral details screen you can invite friends by sharing the link to your social channels.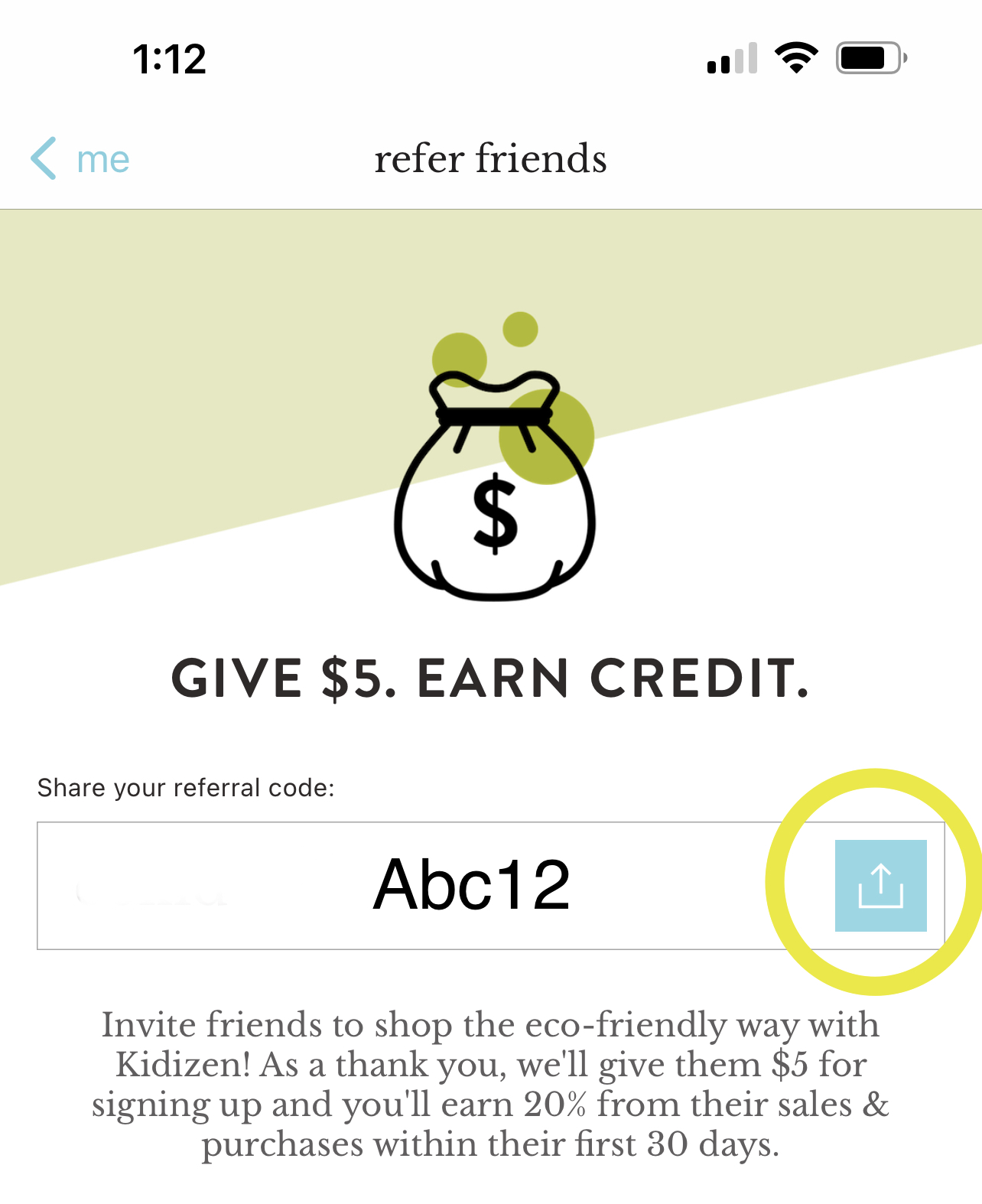 When you share your referral code, the person you refer gets a $5 Kid Credit when they create a new account on Kidizen and you get 20% of your friends' sales and purchases made within those first 30 days. Amounts & percentages are awarded in Kid Credits. Amounts subject to change, check your referral screen for details.
Important Notes:
In order for your friend to use the $5 Kid Credit received at sign up, they must make a purchase of $10 or more within 30 days of creating their account.
You will receive your % reward 10 days after the friend you refer makes a qualifying purchase or sale.

PROGRAM FAQS
What is this list of users under my referral details?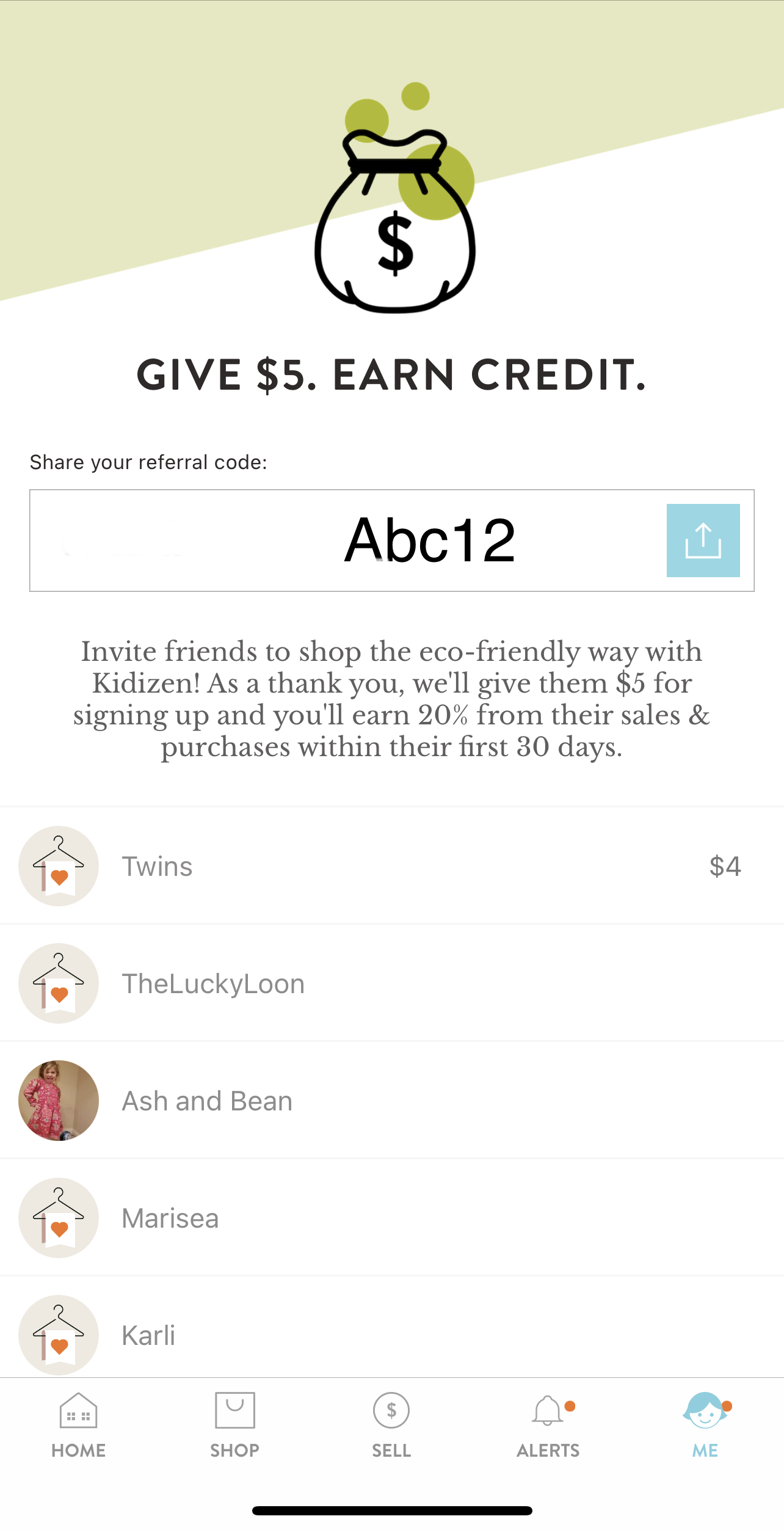 These are the friends that have created new accounts with your referral code!
- If you see "pending", then they still need to make their qualifying purchase or sale.
- If you see a $ amount, that is how much you have earned for referring that friend.
Can't find this screen? Update your iOS app to see the latest changes
On Android and earlier iOS versions, you won't be able to see your referred friends just yet.
GENERAL PROGRAM RULES
Please keep in mind the intent of the referral program is to reward those who help us spread the word about Kidizen. In order to offer this program, we must enforce the following rules so that the program is not abused:
The person you invite to Kidizen must be a new user who does not have an existing account or has had a previous account.
The person you invite will need to enter your referral code when requested during the account creation process. If the person you invite was sent a link from the app, your referral code will be automatically added for them.
Current users may not upload and post their referral code to websites that offer referral/promo/discount codes to the general public for purposes of receiving rewards (i.e. retailmenot, couponbirds, etc). Further, users may not promote their referral code in any of their active listings or shop bio. Since users within Kidizen are already established users, they are not eligible to be referred as a new user. Both of these activities violate our policy and will result in account suspension.
Referral codes may not be used to refer others within the same household/share the same mailing address.
Creating multiple accounts in order to receive referral credit is in violation of our policy and will result in account suspension.
All rewards are given in the form of Kid Credits.
Credits awarded for a referral will expire after 30 days.
Have a question that isn't answered here? Any questions should be directed to Kidizen Support by sending an email to hello@kidizen.com.