Requesting and issuing refunds just got easier! Here's what you can expect in the newest app update:
New Features:
- You're in control! Now you can issue refunds to buyers right from the app.
- Entered the wrong tracking number? No worries, you can now edit it.
- Label printing from your iOS device anyone? Now you can open a shipping label in Safari and print right from there!
Bug Fixes:
- That annoying bug in the Inbox Alerts that would take you back to the top of the Alerts feed every time? Gonzo.
- When you pre-select a shipping label while listing an item, now we show you the label you selected when you go to purchase the label.
Improvements:
- We improved the Order Summary page to show more information regarding your refunded order status, and to provide both Buyers and Sellers better tools to inquire about missing or late orders.
With these new features, here's how the refund process works as a seller:
If you need to issue a full refund before the order ships, select the Full Refund option under the Problems/Order Inquiry tab on the Order Detail screen (see below). This essentially cancels the order and immediately refunds the buyer to their original payment source.
You will automatically receive a refund for the shipping label when you issue the refund if you purchased the label through Kidizen and did not use it.
For partial refunds, or full refunds that occur after the order has shipped, Kidizen will process these within 1 business day. If you do not have sufficient funds in your Kid Bucks account to process the refund, Kidizen will ask you to provide PayPal or credit card information.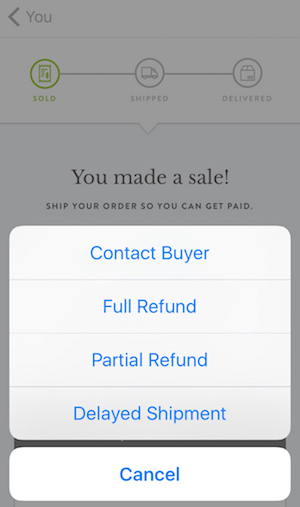 As a buyer, if you need to request a refund because you have not received your order, here's how it works:
If 7 days have passed from the purchase date and the order hasn't shipped, you will see the Request Refund Option under the Problems/Order Inquiry tab on the Order Detail screen (see image below).
Once you select the Request Refund option, you will automatically receive a refund if the order does not have tracking information from the seller.
If there is tracking information but it does not show as shipped, Kidizen contacts the seller is first before the refund is issued.
Remember that before requesting a refund, the first step is to always reach out to the seller to inquire about your order.