The first step after you make a sale is to purchase a shipping label. Visit our Seller Handbook for further information on making shipping even easier!
Once you make a sale, you'll be prompted either purchase a shipping label or enter a tracking number (if you choose to purchase a label elsewhere). If you decide to purchase a label elsewhere, make sure to know what the benefits are (including insurance) of purchasing a Kidizen label.
For your convenience, we are offering an easy way for you to purchase a label through Kidizen. Here's how it works after you make a sale:
1. Tap "Purchase a Shipping Label" in the Order History screen for the transaction you'd like to ship.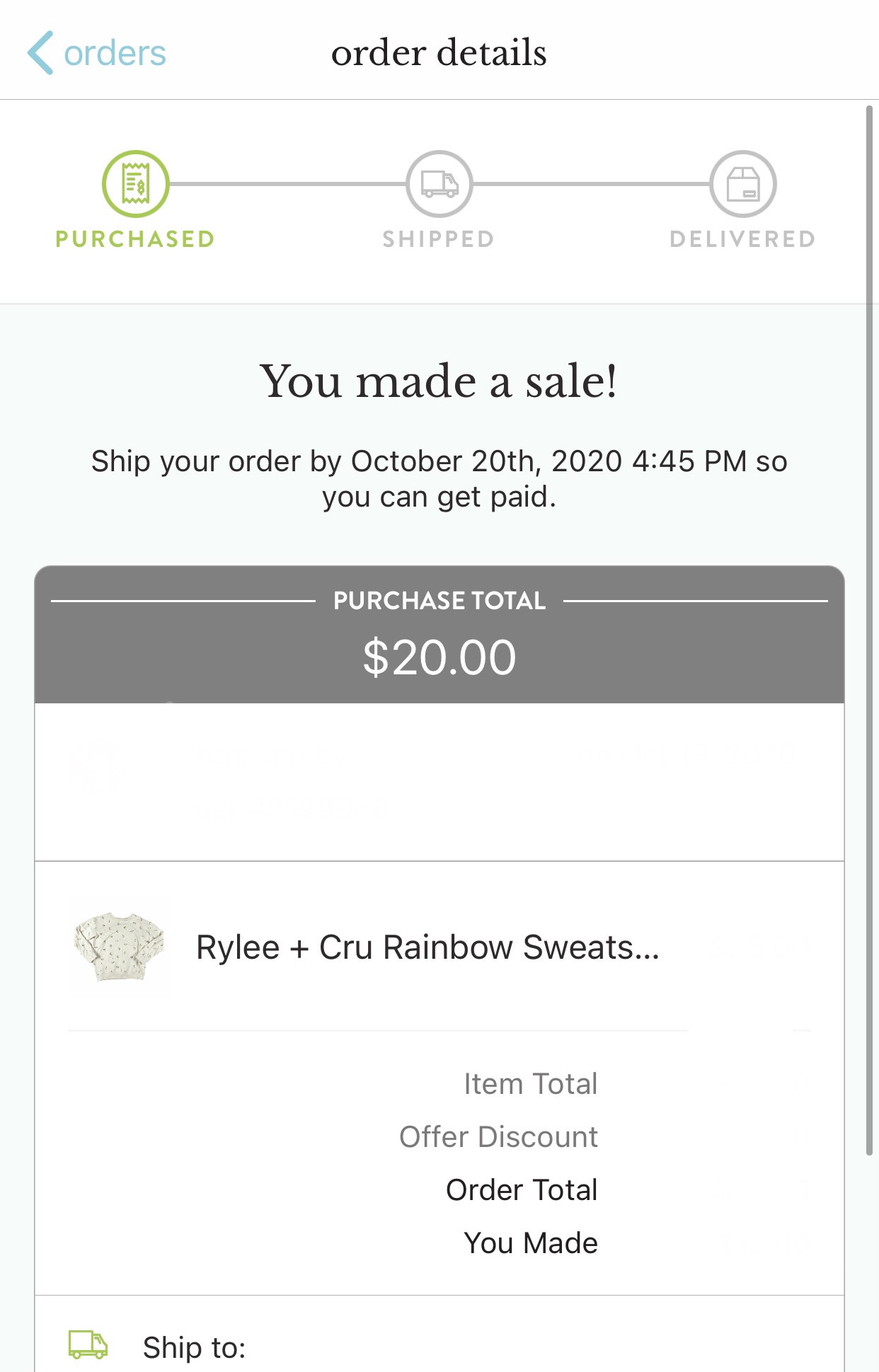 2. Select the appropriate shipping option, be sure that you are weighing and measuring your package after it is packaged up. The cost of the label will automatically be subtracted from the pending proceeds from that sale and/or your Kid Bucks balance.
3. A shipping label will be emailed to you and the tracking number will automatically be provided to the buyer.
Drop off your package, or schedule a pick up!
You can take your package and drop it off in the drop bin at any Post Office, drop it in any USPS blue box, or schedule a pick up from USPS here.
To maintain a positive shopping experience, we ask sellers to ship within 5 days after an order is placed, though we highly recommend shipping within 48 hours maximum for optimal customer satisfaction. After 7 days, a buyer has an option to request a refund.

Need more time to ship? -- Just ask!
Since refunds are not issued until requested by the buyer, communication is key. So, if you need additional time, you can select the Report Shipping Delay option at the bottom of the Order Detail screen (see image below). This will generate a pre-populated message to the buyer (you can modify this message) informing her that you need more time.
Don't forget tracking -- It's required for all Kidizen orders and it's how you get paid!
You can read up on paying for postage and including tracking here
Information on our different labels and carriers:
Most of our labels will be Sendle labels, we do have a few exceptions where we use USPS that can be found below.
How Sendle Works
Sendle has a network of shipping carriers, including USPS, they partner with to get your package to where it is going in the most efficient way possible. They have the ability to flex between different carriers if certain carriers experience issues or pricing is inflated for any reason. A leading benefit of shipping through Sendle is that it is 100% carbon neutral! All of our labels are shipped using Sendle labels with the exception of Military/U.S. Territory Residences and the Flat Rate Padded Envelope which are USPS labels. They use USPS for the first and last mile of shipping so you can drop off at USPS or schedule a pick up as you would any USPS label. Sendle does have their own tracking numbers so you will notice your tracking numbers will look different than USPS tracking.