Once you make a sale, you'll be prompted to either purchase a shipping label or enter a tracking number (if you choose to purchase a label elsewhere).
If you entered weights during the listing process for all items included in the order, we'll suggest a shipping label based on the sum of those weights, which you can adjust. If not, you'll need to enter in a weight or select a shipping option before you'll be able to purchase a label. Be sure to include the weight of all elements of the package, including the packaging materials. 
The cost of the label will automatically be deducted from your Kid Bucks account balance. If you do not have any Kid Bucks available, then the shipping amount will be deducted from the proceeds of your pending sale. In the off chance that the shipping is more than the proceeds of the sale, you will be prompted to enter a credit card to complete the label purchase. 
Once you purchase a label, it will be automatically emailed to you. In addition, the tracking number will be added to your order history and communicated to the buyer.
Here's how it works: 
1. Tap "Purchase a Shipping Label" in the Order History screen for the transaction you'd like to ship
2. Select the appropriate shipping option, or enter an exact weight for the package (be sure to include the weight of the packaging materials as well as the contents of the package)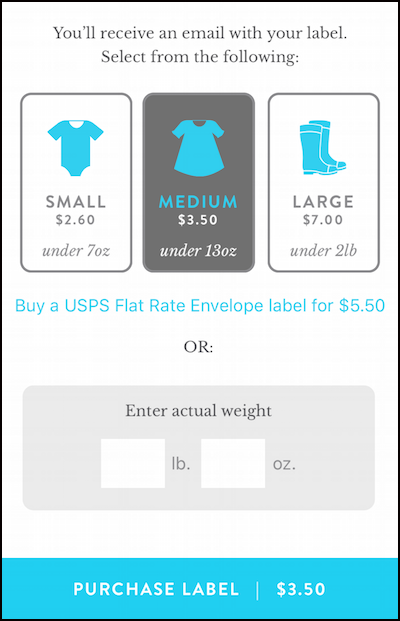 3. A shipping label will be emailed to you and the tracking number will automatically be provided to the buyer